We offer PE stamping services in Florida and Colorado which require a Professional Engineer to inspect and stamp the drawings with their PE Stamp, stating the safety of the proposed system. An engineer's structural and electrical seal is a safety measure that shows that the designs were inspected by a certified professional and met all codes and safety standards
rProcess offers full service on solar PV system engineering from civil and structural engineering to financial modeling and project acquisition.
As a global design company, we help our clients by providing quality solar design work at lower costs and less turnaround time and we have been working with various Solar Installers and contractors for over a decade and we provide guidance on every phase of solar project development and delivery.
rProcess have extensive experience in designing Residential Solar designs. We provide a variety of services in this sector and we provide accurate proposal documents for solar installers.
Each place has its own standards and specifications and our team is trained to work keeping in mind the necessary requirements and our residential solar plan set will have all essential features taking into account on your accurate project requirements and it will include Design Changes, Revisions occur in the proposed solar system. rProcess Services can step in at any stage and can take the design forward. We can work on changing racking, electrical equipment, mounting planes etc and can provide you at very quick turnaround time.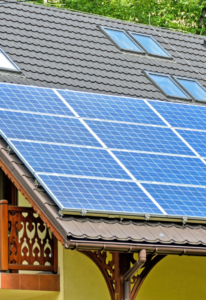 rProcess, in partnership with the trusted businesses and federal agencies that we call our customers, are dedicated to a cleaner environment today and a healthier planet tomorrow.
rProcess Industries is experienced in generating commercial permit packages that support safe and efficient installations. We have done more projects across the globe in the commercial sector. Our team is also adept at providing PVSyst reports to determine annual energy generation of your commercial systems. As a part of energy analysis, modelling we review utility bills, investigate facility energy consumption, determine size of the PV plant required to offset power requirements.
We have successfully designed several commercial projects with different types for racking systems on roof, carports and ground mounts. We are equipped to prepare the PV array layouts, mounting details, Electrical 3 line and single line diagrams etc.
Solar panels are the most noticeable component of a residential solar electric system. The solar panels are installed outside the home, typically, on the roof and convert sunlight into electricity. Solar panels are given output ratings in watts. This rating is the maximum produced by the panel under ideal conditions. A complete home solar electric system requires components to produce electricity, convert power into alternating current that can be used by home appliances, store excess electricity and we help clients by providing Electrical Engineering Designs at less turnaround time.
We are focused on partnering with installers and contractors in the U.S. to bring in efficiencies on the Designs and Engineering Drawings. Turnaround — within a few hours!
One of Our Current Autocad service
PROVIDING PV SOLAR TECHNICAL DRAWINGS AT HIGH PROFICIENCY TO OUR PARTNERS AND END CONSUMERS.
We Speed up the design and engineering process of large-scale solar PV projects to boost teams' efficiency, increase accuracy, and reduce the construction costs of PV plants. PVDesign is a game-changing technology that is revolutionizing the way solar power plants are designed and engineered.
PV-design is specially design to close your solar leads. PV solar design also helps you to finding our exact site capacity & accurate shadow analysis. We provide complete BOM of structure with PV-design. So you can quote more accurately to customers.
WE ASSIST OUR CLIENTS GLOBALLY TO ACHIEVE :
Help in designing cost effective and optimum PV system for installation, reduces the loss in electricity and balance the load
Prepare PV stimulation and BOQ for the PV installation and help end customers in forecasting the numbers
Our Design Team Have Expertise On Below :
rProcess has managed several residential PV design using AutoCAD 2020, includes below on numerous utility scale solar projects
 Our Technical understanding/ Drawings – Residential/Commercial PV drafting
 PV layout drawings,
 PV single line diagram,
 We have attachment/Racking and Mounting experience in Ballast, Ground mount, and Asphalt shingle cables to POC, Load calculations,
 Inverter and Battery storage experience with SolarEdge, Enphase, and SMA inverters Wiring, building other equipment's data sheets.
 BoQ – The plan set is very detailed on equipment count and quantities. As for producing a BoQ for each project this is something we can provide with details shared on customers equipment distributors and the constant fluctuations of distributor equipment cost.
COMMERCIAL DESIGN EXPERIENCE
AVERAGE TURN AROUND TIME < 72 HOURS